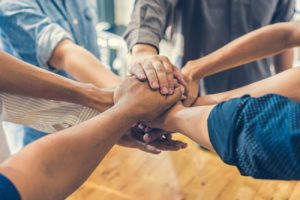 Collaborative Divorce is a good option for couples where both clients are committed to cooperative problem solving.  It uses a team approach from the outset and is focused on planning for life after marriage.  
A Collaborative Divorce begins with each spouse hiring an attorney who is a trained Collaborative Professional.  Both parties and their lawyers sign a contract where they promise to be forthcoming with information and work together for solutions.  Collaborative Divorce also requires both parties to commit to using the collaborative process instead of litigation.
All four meet together to discuss needs and engage in problem-solving.  Because tensions can be high, Collaborative Divorce cases use a Divorce Coach to help with communication and emotional sensitivity.  The Divorce Coach is usually a licensed mental health professional, with years of experience who can pick up on emotional triggers quickly so they don't derail the process.
The Collaborative team can also include other experts, depending upon the particular case.  Child Specialists can step in to help with a parenting plan. Financial Professionals can analyze property and tax issues, and develop solutions that meet each party's most important needs.
Some clients are concerned that the use of experts in Collaborative Divorce could drive up the cost of a divorce, but that is rarely the case.  In Collaborative Divorce, each expert is shared – working as a neutral for both parties, eliminating the expense of competing experts.  In addition, non-attorney Collaborative Professionals have specialized expertise allows them perform tasks quickly and economically.
Collaborative Divorce gives the parties more control, but it is not magic or stress-free.  Sometimes, the meetings are tense and awkward.  That's inherent in the unraveling of a marriage; the topics addressed are so close to the heart.  Ms. Beinart explains, "I don't think divorce is ever amiable.  Undoing a close relationship is painful, but Collaborative Divorce provides a healing process you don't get in contested divorce."  
The attorneys of Bays Family Law are both trained Collaborative Professionals who can help you decide if a Collaborative Divorce is right for you.